So you've seen the gorgeous beaches and stunning karst cliffs on the brochures, but just what is there on offer in Krabi? Which beach has the best resorts, which are away from it all, and how do you find those paradise spots that caught your eye in the travel shop?
I always recommend that my friends spend their precious time instead in Krabi province rather than in more famous neighbor Phuket, which has become overdeveloped and overrun with tourists and girlie bars.
(See my tips for first-time travelers to Thailand for more.)
While Krabi Town may be the provincial capital of this province, it's the beach town of Ao Nang 20 kilometers away that is tourist central in Krabi. With the highest concentration of hotels, resorts, restaurants and shopping, as well as good transport infrastructure inland and offshore, it's the ideal place to base your Thailand holiday!
There's a wide range of accommodation available, although prices tend to be comparatively higher than those in the north and Bangkok—but this is true of all the beaches and islands in Thailand.
Despite its rapid development over the recent decade, Ao Nang cannot be considered "spoiled". This beach town is far from becoming like Phuket or Samui: for one, it is much smaller, with no high-rise buildings, and most of the businesses are still locally owned and run, giving the place a laid back charm.
Because everything is concentrated in a small area around the main beach road, Ao Nang is also very convenient to get around. Most places, including the beach, will be within short walking distance from your hotel.
Ao Nang Beach itself is a pretty, palm-lined stretch of sand, dominated by the large cliffs at its southern tip. You can spend the day here swimming and snorkeling, getting traditional Thai massage, or enjoying a drink in a nearby beach cafe; although most people use Ao Nang as a jumping off point for day trips to the nearby islands and Railay Beach, coming back in the evenings to eat, shop, and enjoy a night out.
After sunset—which is often a spectacular show seen from the beach—the beachfront comes alive as people return from the islands and set off, freshly showered and dressed up for a night out. Shopping, eating and drinking are what is done best here. There's a large choice of restaurants, particularly for Western food—so much so that the beachfront has earned the nickname "Little Italy".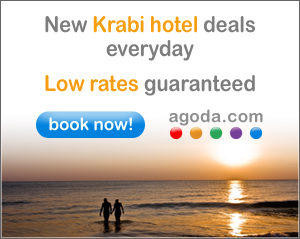 Shops sell everything from souvenirs to fake Rolex watches and DVDs (buyer beware!) and bargaining is a must. Massage shops, spas and beauty parlours stay open late, so you can indulge after your hard day island-hopping. Alternatively, you can sit in a roadside bar and people watch, or sip a pina colada under the stars at a beach bar on the sand.
Noppharat Thara beach just 3 kilometers around the corner from Ao Nang, is a long beach yet still rather undeveloped, with only a few resorts and bars. Attractive because of its natural setting, this is where local youngsters and families gather at sunset and at weekends. Savour some local Muslim snacks at the beach stalls, or fill yourself with seafood in the local restaurants at the very end of the beach, near the Noppharat Thara National Park headquarters. At low tide, walk out together with millions of small crabs on the sandy pathways to the small islands near the beach.
Ao Nang Beach, Krabi Image Gallery